Aug 19, 2018 02:59 PM Central
Essential Oils by Trimester: a Pregnant Woman's Guide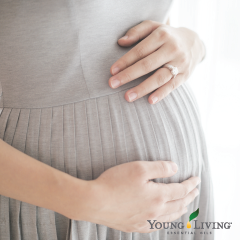 The decision to use essential oils during pregnancy can be a difficult one. There are a wide variety of opinions on the matter, often with conflicting and confusing claims.
For example, some women choose to avoid excessive use of these specific oils:
Clary Sage or Sage
Idaho Tansy or Hyssop
Fennel
Wintergreen
Blends and supplements that contain these oils
However, essential oil usage is a personal choice, and there are no hard-and-fast rules. Just be sure to follow label directions and consult a medical professional with essential oil experience to be as safe as possible. When used correctly, essential oils can help form a beautiful bond between motherhood and Mother Nature.

To order any of these essential oils, click on the PLACE AN ORDER tab above or just
click here.
You'll have the option to order Retail or Wholesale (24% off retail for LIFE). A wholesale membership offers a variety of Starter Kits, depending on your preferences (our Savvy Minerals makeup kit, a Thieves home cleaning kit, etc.). The Premium Starter Kit with the diffuser of your choice is my favorite option to get started because if you subtract the cost of the diffuser, you are getting 11 bottles of therapeutic grade essential oils for ~ $70! You only have to order 50 PV a year to remain active. NO monthly minimum ordering requirements. You can
click here
and scroll down to watch a video entitled ENROLLMENT IN VIRTUAL OFFICE to learn more.
To read about special PERKS of being a wholesale member under my sponsorship,
click here
and scroll down to PERKS of being a wholesale member under my sponsorship. Call or text me if you have questions. I'd love to talk to you and help you!
Blowing blessings your way,

Linda Hicks
Young Living Member #11740497
Functional Medicine Certified Health Coach
(c) 210-326-5922