Mar 11, 2018 07:40 PM Central
THREE Supplements in One:
100% of your daily dose of Vitamin D3

Healthy fats

Bioidentical CoQ-10
MindWise™ supports normal cardiovascular health and cognitive health with a fruity, nutty flavor! Made with exotic sacha inchi seed oil, acai puree, pomegranate juice and extract, turmeric, essential oils, and more.
Proprietary memory function blend contains:
GPC (a fat that may help to coat the cells in your body)

ALCAR (helps mitochondria in your cells to produce energy)

CoQ10 (supports heart health by replenishing your body's natural CoQ10 )

Turmeric (another powerful antioxidant)

Rhododendron extract (another powerful antioxidant)

No added preservatives
Formulated with:
Peppermint (Mentha piperita) Fennel (Foeniculum vulgare) Anise (Pimpinella anisum) Lemon (Citrus limon) and Lime (Citrus aurantifolia).

Who should use MINDWISE?
MindWise is the ideal supplement for anyone who wants to support their brain, cognitive function, and cardiovascular health. I add MindWise
to NingXia Red (another Young Living super-antioxidant) and a little sparkling mineral water for a "cognitive cocktail" I look forward to every day with amazing health benefits. As my friends know, if you come to visit me, you'll get one too!
The 15 oz size is great but requires refrigeration and as long as you're at home, that's not a big deal. But if you're traveling, it becomes a challenge, especially with TSA requirements.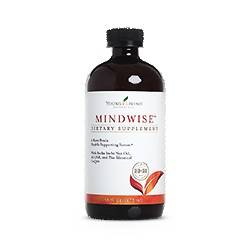 MindWise™ Now Available in Convenient SACHETS!!!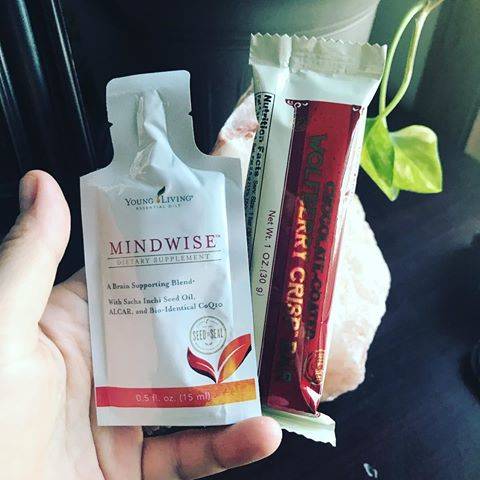 So if you're asking why that's a big deal, let me tell you.
No refrigeration required

No measuring spoon required

No need to remember dosage

Great for travel

Easy to use on-the-go packaging

Sachets last several months before expiring

Convenience. Convenience. Convenience.
DIRECTIONS:
Single-Serve Packet: Drink 1 sachet daily. Consume promptly after opening. Should be taken with a meal. Shake well before use.
16-oz. Bottle: Take 1 tablespoon (3 teaspoons) once daily. Children (4+ years) should take 1–2 teaspoons once daily. Should be taken with a meal. Shake well before each use. Consume within 30 days of opening.
CAUTIONS
Keep out of reach of children. If you are pregnant, nursing, taking medication, or have a medical condition, consult a health care professional prior to use. Not recommended for children under the age of 4. Keep in a cool, dark place.


Mindwise - Sachet 30 ct ½ oz. (item #20223) No refrigeration required.
MindWise is also available in a 15 oz bottle (item #21244) - Requires refrigeration after opening.
Love your mind and heart.
And they will take care of you.
To order

MindWise™

, click on the PLACE AN ORDER tab above or just click here. You'll have the option to order Retail or Wholesale (24% off retail for LIFE). A wholesale membership offers a variety of Starter Kits, depending on your preferences (our Savvy Minerals makeup kit, a Thieves home cleaning kit, etc.). The Premium Starter Kit with the diffuser of your choice is my favorite option to get started because if you subtract the cost of the diffuser, you are getting 11 bottles of therapeutic grade essential oils for ~ $70! You only have to order 50 PV a year to remain active. NO monthly minimum ordering requirements. You can click here and scroll down to watch a video entitled ENROLLMENT IN VIRTUAL OFFICE to learn more. Click here and scroll down to read about PERKS of being a wholesale member under my sponsorship. Call or text me if you have questions. I'd love to talk to you and help you!

Young Living Member #11740497
http://functionalmedicinehealthcoaching.com
Functional Medicine Certified Health Coach