Feb 25, 2018 02:50 PM Central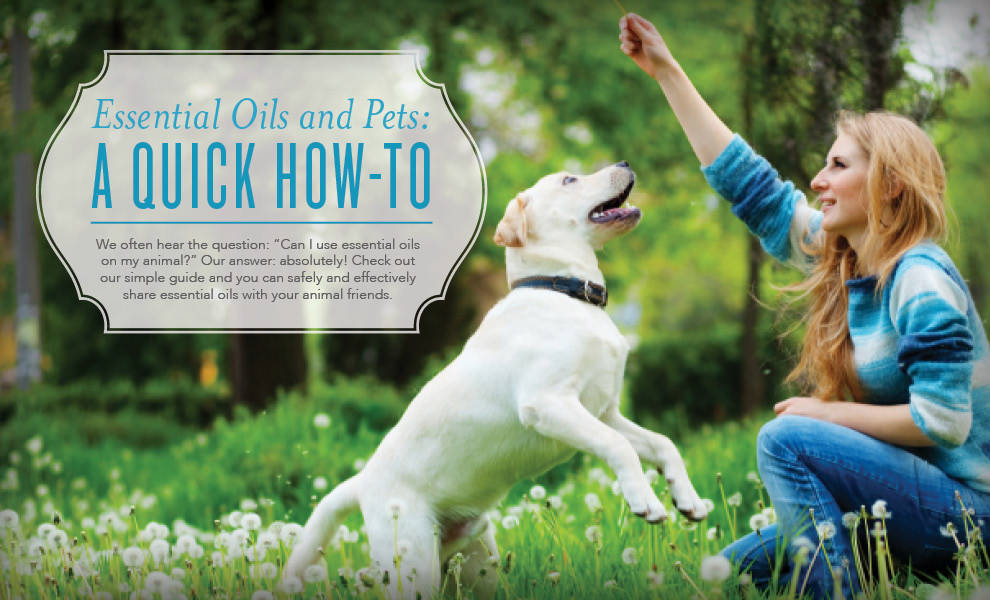 Most of you are familiar with the amazing benefits of using essential oil products in your home. But you've probably wondered how you can share their amazing benefits with your animals. Which oils are safe to use? How much can I apply? Should I diffuse or apply topically?
If you've ever had questions like these, I want to help you get the answers you need. Check out this quick-and-easy how-to guide for using essential oils with animals.* Whether you're a beginner or an expert, here are a few things to keep in mind:
Most animals are more sensitive than humans to essential oils.
Start by diluting heavily and use in moderation.
Every animal is different, so carefully observe how each animal responds to the oils. Use common sense and good judgment as you try different methods.
Take special care to not get essential oils in an animal's eyes.
Avoid using high-phenol oils such as Oregano and Thyme with any animals, especially cats.
Use special caution when using essential oils with cats. Cats are also generally averse to citrus essential oils.
Your animal's size affects the amount of oil you should use.
For smaller animals like cats and small dogs, use 3–5 drops. Be sure to dilute 80–90 percent prior to application (for example, for every 1 drop of oil, use 4–5 drops of a diluting agent, such as V-6™ Vegetable Oil Complex).
For larger animals, like large dogs, start with 3–5 drops. Unless otherwise indicated on the product label, dilution is unnecessary.
For very large animals, like horses and cattle, start with 10 drops. Unless otherwise indicated on the product label, dilution is unnecessary.
Apply oils to yourself or diffuse to introduce animals to essential oils and help them get comfortable.
Wear oils around your animals, diffuse in their space, or apply to your hands and let the animal smell them.
If your animal is jittery or resistant to essential oils, try applying an oil to yourself and staying near the animal for several minutes so it can get used to the aroma.
Once they're used to essential oils, animals can respond well to topical application.
For cats and dogs, paws are a great place to apply essential oils.
For hoofed animals, we recommend application on the spine or flanks.
Try rubbing oils onto your own hands and then stroking the animal's fur.
For large or hard-to-reach areas, combine essential oils with V-6 Vegetable Oil Complex or water in a spray bottle for easier application.
Animal Scents™ Ointment can be used to seal and protect areas where essential oils have been applied topically.
Young Living offers a full line of animal-specific products:
Animal Scents Shampoo
Animal Scents Ointment
Animals Scents oils (available in a collection and individually)
*
If your pet or animal has a known health issue, please consult your veterinarian before administering essential oils.
To order any of these products,
you can go to the Place Order tab above. You'll have the option to order Retail or Wholesale (24% off retail for life). A wholesale membership offers a variety of Starter Kits, depending on your preferences (our Savvy Minerals makeup kit, a Thieves home cleaning kit, etc.). The Premium Starter Kit with a diffuser of your choice is my favorite option to get started because if you subtract the cost of the diffuser, you are getting 11 bottles of therapeutic grade essential oils for ~ $70! You only have to order 50 PV a year to remain active. NO minimum ordering requirements.
Young Living Member #11740497
===============
Testimony: I have a friend whose dog (a very precious adored member of their family) was diagnosed with a major health issue and she thought he was "on his last leg" so to speak and was in grief (she and her dog both). With minimal application of an essential oil, the next day her beloved Buddy was wagging his tail like a haPPy dance and eating food again! This is one of many happy endings (LOL) and I hope your pets experience haPPy endings (or new beginnings) too!